Venue
Ikuta Shrine Hall is next to Ikuta Shrine.
With more than 1,800 years of history, the stately Ikuta Shrine is the origin of Kobe City's name, as Kobe comes from "Kambe", which means "Protector of the Deity of Ikuta."
Although located in the urban center of Kobe, the shrine's "Ikuta no Mori (Ikuta Woods)" is a sanctuary of natural beauty where you can hold meetings or parties in a tranquil setting.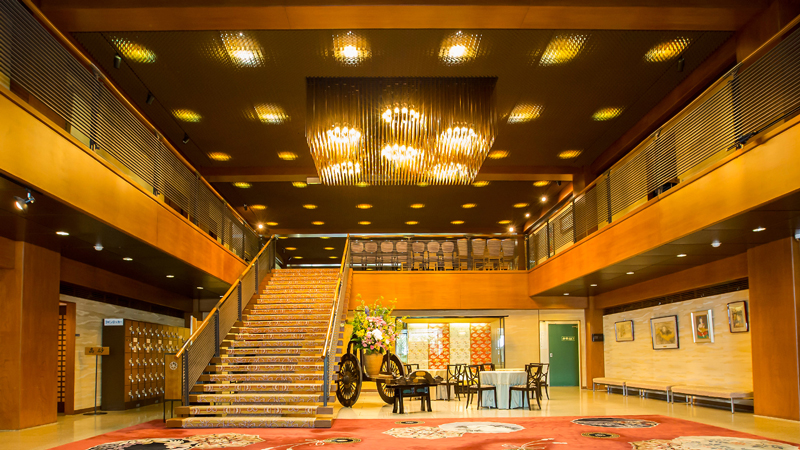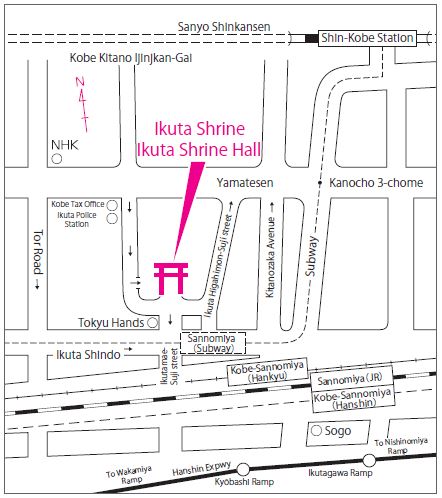 Transportation to Kobe
Kobe is linked to three airports in the Kansai area (Kansai International Airport, Osaka International Airport, and Kobe Airport). The city is a mere 30 minutes from Kansai International Airport, which offers 1,126 flights per week to and from 65 cities. Osaka International Airport, also 30 minutes from Kobe is linked to 27 cities across Japan, while Kobe Airport, located 15 minutes from downtown, offers flights to 7 cities around Japan. Kobe offers excellent access, from both international and domestic locations.
Access from Overseas
From the world to Kansai International Airport
Kansai International Airport offers a full 24-hour operation service, with 1,260 flights per week to and from 82 cities in 24 countries around the world.
Situated at the gateway to northeast Asia, it is a convenient hub for linking Asia and the world (US and Europe). Passenger traffic is rising yearly and the airport offers service in many languages. It also serves LCCs, which are very popular in Asia. Kansai International Airport is scheduled for further expansion to provide even better links to cities around the world.
Access from major cities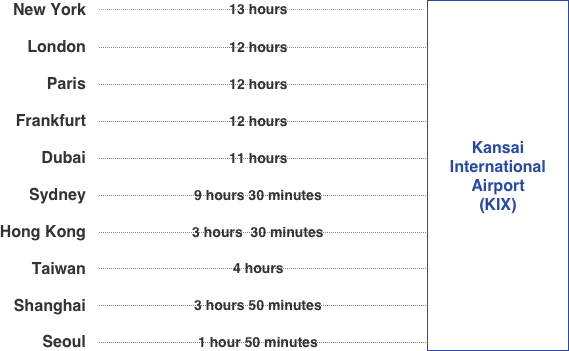 From Kansai International Airport to Kobe
The Bay Shuttle Ferry or Limousine Bus is convenient.
The Bay Shuttle Ferry is a mere 30-minute ride to Kobe.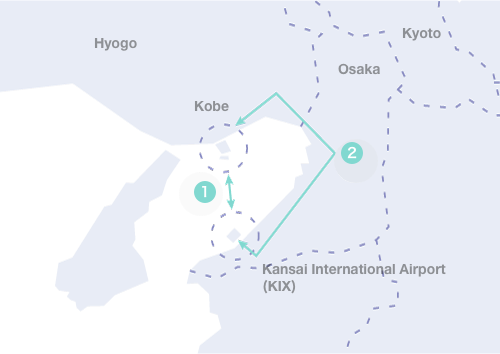 Bay Shuttle Ferry
Thirty minutes to Kobe Airport.
Hourly service.
Sixteen crossings per day.
Limousine Bus
Sixty minutes to Sannomiya.
Three trips per hour.
Access from Japan
Shinkansen (Bullet Train)
Shin-Kobe Station is served by the Shinkansen every 15 minutes, providing wide spread access to eastern and western Japan.
Air travel
Kobe Airport is linked to 7 major Japanese cities including Tokyo. The airport is about 15 minutes from the city center and 30 minutes by limousine bus from Itami Airport (Osaka International Airport), which provides service to 27 cities in Japan.